Fixes for Laptop Keyboard Not Working Windows 10
Fixes for Laptop Keyboard Not Working Windows 10
Apr. 26, 2020
The following methods are applied to most of the vendors including HP, Acer, Dell, Lenovo, Asus, etc.
When your laptop keyboard doesn't work, try these solutions.
Solution 1: Check Keyboard Not Working Is a Hardware or Software Issue
This is the first thing you should do. Is it a software issue or hardware issue? Just do this:
When the laptop starts up, press a special key that can be F2, F8, F12, Delete, etc. to go to the BIOS screen.
If you fail to boot to BIOS, there could be a hardware issue. Then, you need to carry your laptop to a professional or specialist to ask for help.
If you can open the BIOS menu and use the arrow keys to navigate, the non-working keyboard may be caused by a software issue.
Then, you need to try these methods below.
Solution 2: Clean the Keyboard
It is not easy to clean your laptop keyboard since you cannot easily shake and tap the laptop back without damaging to the entire unit.
Follow the guide to dislodge dust and debris:
Step 1: Shut down the device.
Step 2: Turn it upside down and tap on the base. When the laptop is upside down, run your fingers through all the keys to remove the residuary dirt.
Solution 3: Update or Reinstall Keyboard Driver
To fix laptop keyboard not working in Windows 10, try to update or reinstall your keyboard driver by following these steps:
Step 1: Right-click on the Start button to choose Device Manager.
Step 2: Scroll down to choose Keyboards. Right-click on Standard PS/2 Keyboard, choose Update driver and automatically search for updated driver software to install.
Alternatively, you can click Uninstall device to remove the driver. After rebooting, the driver will be reinstalled instantly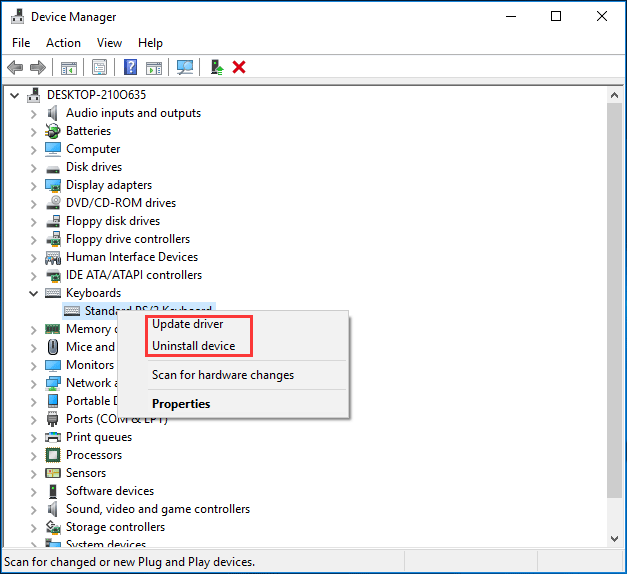 Solution 4: Disable Filter Keys
In Windows 10, there is a feature called Filter keys that is designed to ignore repeated keystrokes to let tying easier. But sometimes it can cause
some keyboard issues when it is enabled on your laptop. If your keyboard doesn't work, you can turn it off.
Step 1: In the Control Panel interface (displayed by Category), click Ease of Access and Ease of Access Center.
Step 2: Click the Make the keyboard easier to use link.
Step 3: Scroll down to ensure the checkbox of Turn on Filter Keys isn't ticked. Then, click Apply and OK.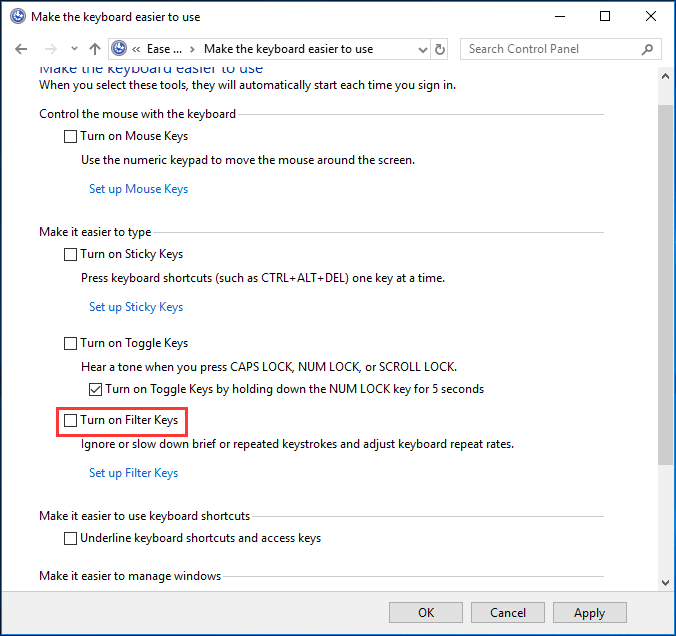 Solution 5: Run the Troubleshooter
When Windows 10 keyboard not working happens on your laptop, you can try to troubleshoot it. In Windows 10, the built-in feature – Troubleshoot will be helpful.
Step 1: Go to Start > Settings > Update & Security.
Step 2: In the Troubleshoot page, scroll down to find the Keyboard section, and choose Run the Troubleshooter. Besides, you can run the troubleshooter for Hardware and Devices.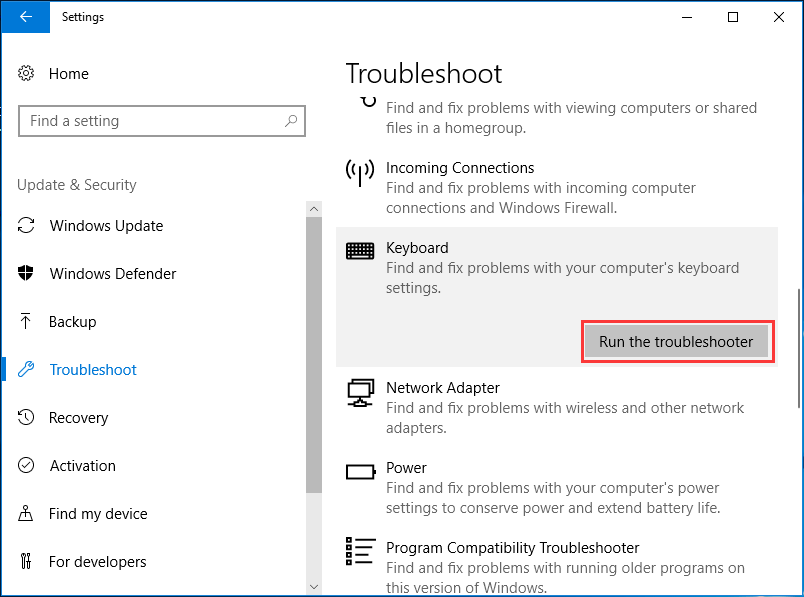 Get all the software products you need from the Bzfuture online retail store for less. Our products purchased from regular sources and some products we got authorized lience. Furthermore, bzfuture will keep updating our stock with everything you need. Don't forget to keep an eye on our newletter for more information.